Further to my previous blog post about the cycling in parks as part of the consultation on changing the Ipswich Borough Council's Byelaws, the response to that consultation and the next steps are going to the next Executive Council meeting on Tuesday 11th January 2022. It's item 8 on the agenda.
The written responses to the consultation had over a third of the people who wrote a response for the open questions requesting additional cycling provision.
Item 2.7 on the report says:
The on-line consultation raised the concerns of not being able to cycle within the parks. To address the feedback, a communications campaign to encourage cycling where appropriate is being created.

Item 2.7 on the report to the Executive of the council
However in the proposed byelaws, similar to the current byelaws the rules are you can't cycle unless there's a designated area or route to do so:
Cycling

16. (1) No person shall ride a cycle in the ground except in any part of the ground where there is a right of way for cycles or on a designated route for cycling.

(2) No person shall cycle on any footway or carriageway in such a manner as to cause danger or give reasonable grounds for annoyance to other persons using the footway or carriageway.

Proposed byelaws for Ipswich Parks.
There are currently very limited routes though Ipswich parks where cycling is explicitly allowed. Many of these cycle paths are in parks which are closed from dusk to dawn.
How can the council promote more cycling in parks, when their byelaws explicitly don't allow cycling, with a limited number of exceptions?
Are Ipswich Borough Council planning a further review of where people are allowed to cycle?
Why can't Ipswich Borough Council change the default to allow cycling on all paths in parks, with a limited number of exceptions, thus turning the current rule on it's head, and helping with the climate emergency?
In light of the above I've sent my ward councillors, and relevant executive councillors the email below in the hope that the default will be changed and more cycling will be legally possible in Ipswich's parks:
Dear Councillors,
I'd like to raise some concerns around the upcoming changes to the byelaws and proposed publicity to promote cycling in parks that is planned and due to be discussed at the Ipswich Borough Council Executive meeting on Tuesday 11th January 2022 under item 8.https://democracy.ipswich.gov.uk/ieListDocuments.aspx?CId=135&MId=2594
I'm a parent of 2 young children, and believe there urgently needs to be more places in Ipswich for people to learn to cycle, and safer routes to travel without a private motor vehicle.
There is no mention of an Equality Impact Assessment having been carried out. These are required by the Equality Act 2010 S.149. https://www.legislation.gov.uk/ukpga/2010/15/section/149 Why is no Equality Impact Assessment available? Can an Equality Impact Assessment please be done prior to the park byelaw changes progressing further.
Many people are increasingly using bikes, adaptive cycles, hand cycles, or cargo bikes as a means to travel as it's easier than walking or using a wheelchair. Some people find it very difficult to dismount from bikes. Many bikes don't have a problem with falling over and can be pedalled at walking speed. Requiring people to dismount for users of cycles is a contravention of Equality Act 2010 S.20(3)(4), and constitutes direct discrimination under Equality Act 2010, Section 21. https://www.legislation.gov.uk/ukpga/2010/15/section/20 This is one of the reasons considerate cycling should be allowed in parks by default, with exceptions where there is a very specific safety case for it.
It is good that the report recognises that there are many responses where people would like there to be more cycling in parks to support safer routes and places for people to learn to cycle. However the response to this is simply suggesting that there will be a publicity campaign to highlight that you can cycle in the parks, yet there are very few parks that you are allowed to cycle in currently, and of those there's very limited routes that you are allowed to cycle on. Are there plans to increase the list of exceptions where you are allowed to cycle as part of these changes currently? As an example a very useful utility cycling connection for shopping and routes to school and nursery would be opened up if Bramford Lane/Marlow Road through to Castle Road/Broadway Lane had the no cycling signs taken down and replaced with shared use walking and cycling signs. There are many others where cycling in parks would open up more opportunities to alternatives to the car.
The upcoming Highway Code changes are introducing a hierarchy of road users which means that road users who cause the greatest harm bear the greatest responsibility to others. This means that cyclists and horse riders have a responsibility to reduce the danger to pedestrians, which will help with issues around conflict and any fears that allowing more cycling in parks will be a problem. Publicity around these Highway Code changes will be helpful in combination with the other adjustments to the byelaws and rules.
The current cycle infrastructure design guidance is LTN 1/20 https://www.gov.uk/government/publications/cycle-infrastructure-design-ltn-120 Paragraph 7.4.3 is very clear that access to areas that motor vehicles are not allowed should allow cyclists access unless there is good evidence that it will cause a significant safety problem. The full text of the paragraph (VRAs=vehicle restricted areas):There should always be a preference for allowing cyclists to access VRAs unless there is good evidence that this would cause significant safety problems. However, the possible impacts on pedestrians, and disabled people particularly, must be considered carefully. Visually impaired people, in particular, may not feel comfortable sharing a pedestrianised area with cyclists – see Chapters 6 and 8. Where cycling is permitted, most cyclists will usually dismount when pedestrian numbers are greatest.
Both Ipswich Borough and Suffolk County Councils have declared climate emergencies, so therefore should be doing things that encourage less polluting modes of transport such as walking and cycling, whilst discouraging polluting modes of transport such as the private car much as possible. This includes providing shortcuts through parks and quieter residential streets for people who are walking, cycling, and using public transport, whilst discouraging the use of private motor vehicles, including closing rat runs and the removal of through motor traffic on residential streets.
Given the above, will paragraph 16. (1) of the proposed byelaws be changed such that the default is to allow cycling in parks? Or will there be a full review and significant increase in the places where there is a right of way for cycles or designated routes for cycling in parks?

Kind regards,
Shaun McDonald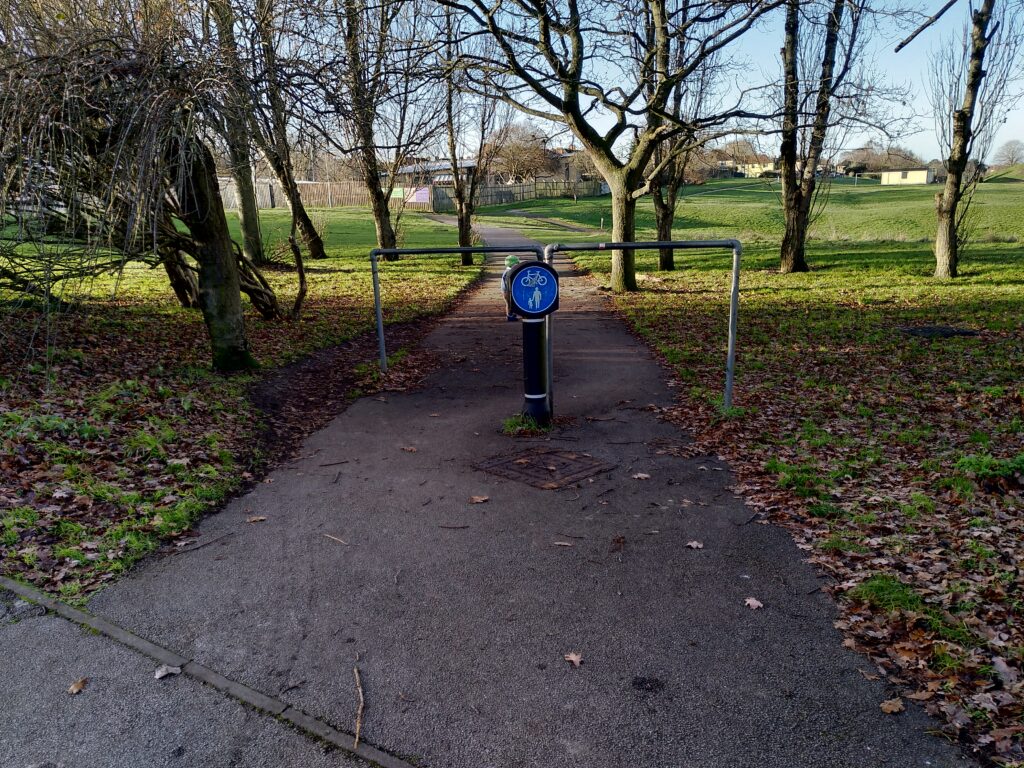 I was looking for a photo in my collection of an Ipswich park which would represent cycling in a park to add to this post, and the first one I find is from last week. It's an entrance to Landseer Park, effectively a link to National Cycle Network 51, which is visible in the background of the photo above. It was a day where I was on the bus rather than the bike, otherwise I'd have tried to get the cargo bike through. There's a noticeable desire line to the left of the barriers where people have been avoiding them. Maybe it's time to remove the metal barriers?
Thanks to Charlotte Moore's article in the Ipswich Star for highlighting the item going to the Executive committee of the Council.