Suffolk County Council are making many changes to increase active travel to prevent a significant proportion of people switching to driving a private car and causing gridlock and additional pollution after the lovely low air pollution and traffic levels during the lockdown.
One of the proposed changes is to make Bramford Lane a little more pleasant for walking and cycling by closing a rat run where Bramford Lane goes under the railway bridge. Bramford Lane is part of a local cycle route from the edge of the town centre (you're left to fend for your self for the last kilometre into the real part of the town centre) from the Whitehouse area of Ipswich.
Bramford Lane is currently a horrible road to cycle along (particularly on a cargo trike or bike with no suspension) due to the speed humps and the excessive car parking. Very few houses have off street parking which doesn't help. It's signed as a local cycle route, and a short section is part of National Cycle Route 51.
On the highway authority's plan is to close Bramford Lane at the railway bridge, which is a good step in the right direction. This will help to reduce the number of people driving a significant distance along the road, and instead move them on to the main roads. I however think we should be going much further with a quieter neighbourhood scheme where every property is only accessible from one main road. This would make the whole area much quieter, making it more pleasant for walking and cycling. All motor vehicle journeys can still be done, however for short journeys they are likely to be longer by motor vehicle. If people switch to walking, cycling, and other similar modes then the short journeys become more pleasant based on evidence elsewhere.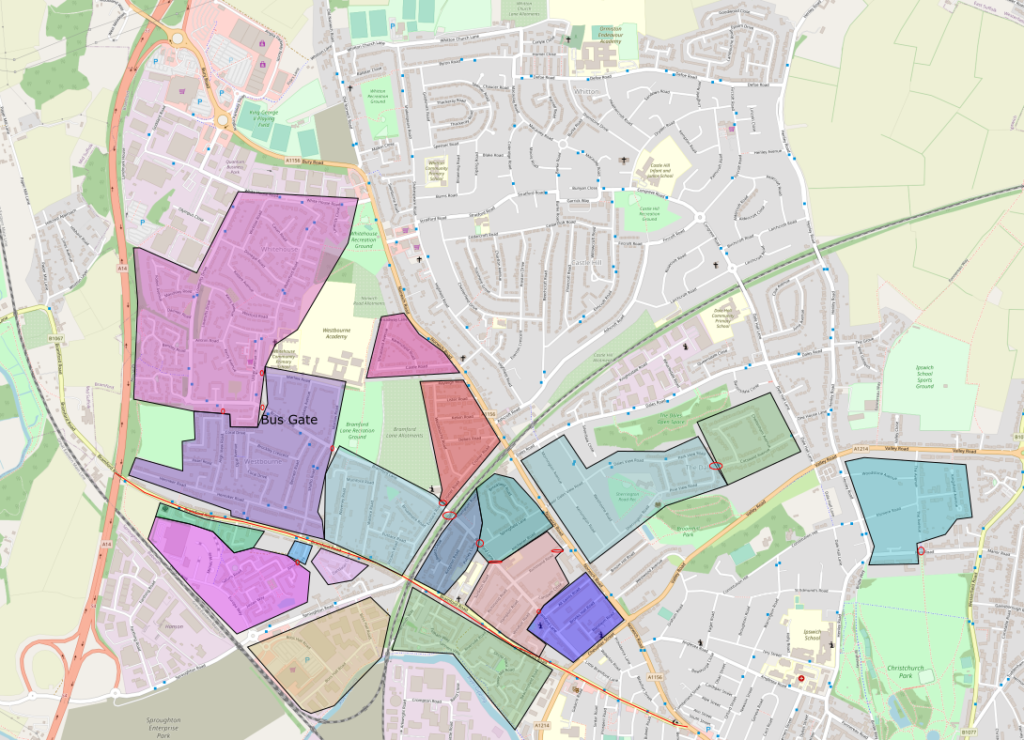 In all cases this is an idea up for discussion, details of the exact locations blockades could be moved to have the same effect.
Working through the proposal from the town side.
A block on Bramford Lane between All Saints Road and Windsor Road. This creates a group of roads between All Saints Road, Bramford Lane, Norwich Road, and Chevalier Street. I'm not aware of rat running between Chevallier Street and Norwich Road, if there is, a possibility is a few short one way streets.
The next blocks would be Richmond Road (Norwich Road end), and between Surbiton Road and Kitchener Road. This would create a larger block that would only be accessible from the Bramford Road side. Richmond Road could have the the no through motor vehicle access at any point on the road, allowing access on to Norwich Road instead for that section of Richmond Road.
The following section would be a closure on Bramford Lane between Springfield Land and Putney Close, making Kitchener Road and Springfield Lane only accessible for motor vehicles from Norwich Road.
The last section to the railway bridge would only be accessible from Bramford Road. Putney Close could be accessible from either Norwich Road or Bramford Road depending on the where the block would be placed.
On the west of the railway bridge to prevent rat running and through motor vehicle access from Bramford Road to Norwich Road, I'd close Cromer Road between Bramford Lane and Westbourne Road. The Bramford Road side of this split would be a cell that would cover up to just before the junction on Marlow Road.
The next section becomes more difficult due to the bus routes. It's possible for a split with only 3 further closure points. There's a lot of fast traffic on High View Road, thus a closure on High View Road between Diamond Close and Bramford Lane is needed. Marlow Road next to Ulster Avenue is the second point. Finally Bramford Lane to the east of Ulster Avenue is where the bus gate would go.
Lovestofts Drive and Bramford Lane would get a reduction in traffic making it far easier for parents with kids and kids on their own to be able to cross the road to school.
Ulster Avenue probably needs cycle tracks added. Waterford Road could become one way for motor vehicles, northbound same as the bus route, and a cycle track added for southbound people cycling.
Marlow Road has 2 schools, and urgently needs school streets too. I'd also include Galway Avenue in the school streets. School Streets are where a group of roads around a school are closed to motor vehicles with some exceptions (primarily residents on the specific streets and blue badge holders) for around 30-60 minutes around the school arrival and departure times. School streets have been very successful in Edinburgh and other locations, with parents in other schools asking for their school to be included too. Most children don't need to be dropped off right at the school gate, they can either walk or cycle the whole way to school, or be dropped off a few streets away to then walk the final section. Deliveries can be schedules outside of the school arrival and departure times, a cargo bike used, or parking the van outside the zone and walking the last bit. It may add to the cost, however the safety of children should be the priority.
To support the above, I'd also add a closure on Jovian Way near Bramford Road as there's a lot of rat running through this residential area instead of using Sproughton and Bramford Roads.
20mph should be introduced on all of the residential roads to make it safer and quieter for residents.
Throughout all of the above walking and cycling would still be possible, making short journeys much more pleasant when walking and cycling. Motor vehicle access to every property would still be possible, with minimal difference for longer journeys. The main roads would get a little busier for a while, however as modal shift happens, the motor traffic would evaporate way, as short journeys are less likely to be done by motor vehicle.
I realise this is quite radical, however it's the sort of things that's really required to reduce air pollution, obesity, inactivity, concentration of workers & school kids, and motor vehicle congestion.