This year at State of the Map Scotland 2012 I spoke about the ITO Map tool to highlight the more detailed OpenStreetMap data available, which generally isn't shown on maps. I've mentioned a few other services that I find interesting that maybe aren't so well known. This blog post is a summary of that talk. You can click the map images to see a bigger image.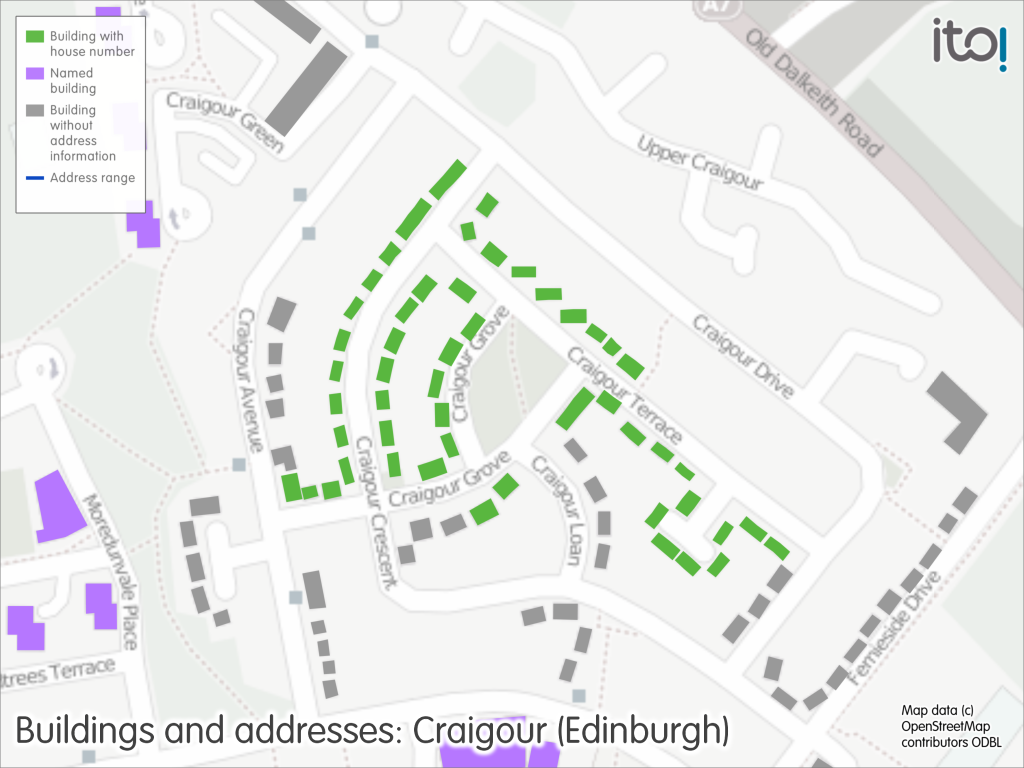 First up, was the building classifications and building addressing ITO Map layers. It's really useful to have address information on buildings as then you can find the specific address rather than just the street.
A lot of the buildings in OpenStreetMap at the moment are simply marked as building=yes, (94% of buildings don't specify the building type), however if the buildings are marked with what they are used for then more interesting maps showing the building classification can be created, and you have information that can be useful for planning things.
Not many people have come across a speed limit map, as it's very rare that this information has been readily available until people started adding it to OpenStreetMap. The ITO Map layer is great for showing the current data, and also highlighting where more data is needed, particularly residential streets and smaller roads. Most major roads in the UK already have speed limit data.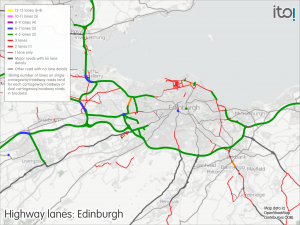 Next up I showed the Highway lanes map, which gives an idea of how busy or wide a road is. This data can be used by navigation devices to give advice on where to change lane on approach to a junction if it is required for example. I've also had someone suggest that it could be used by pedestrian and cycle campaigners to show how easy it is to cross a road, especially when used in combination with a map showing the pavements/sidewalks.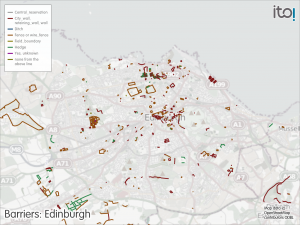 Having the barriers in an area mapped can be useful in some cases as it can for example explain that two roads don't join due to a wall being in the way, thus someone who is looking at the data remotely thinking there is a connectivity error won't try and fix it.
Barrier information is used by routing engines, for example CycleStreets will avoid  taking you across some types of barrier.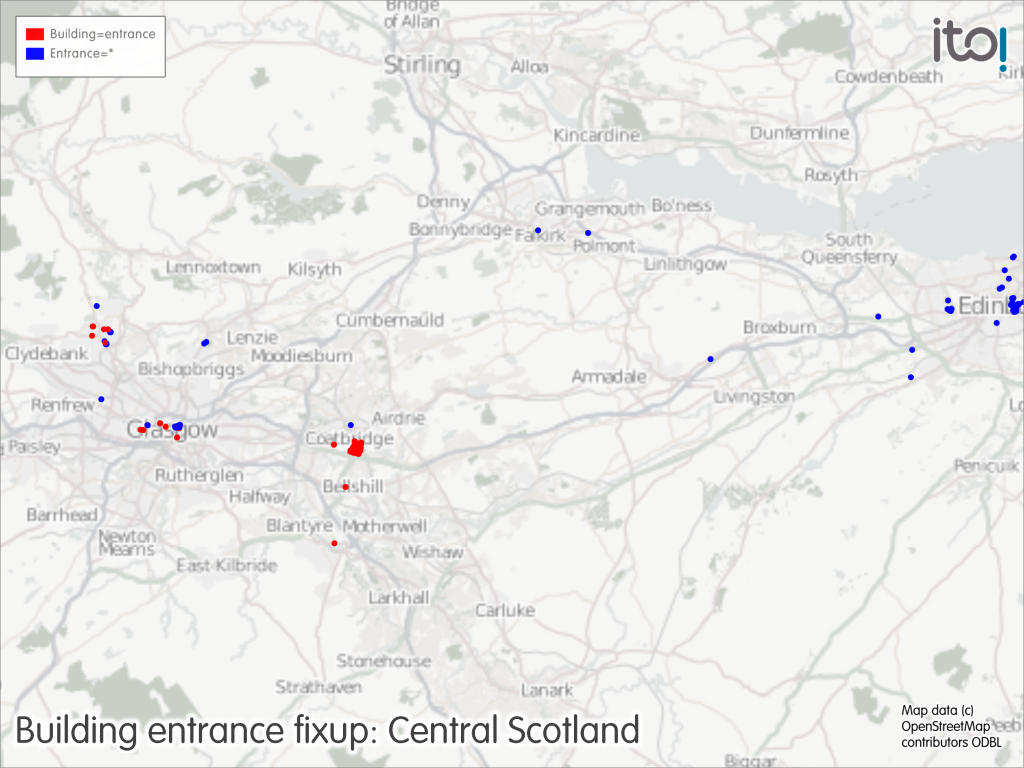 Many of the ITO Map layers are specifically aimed at helping OpenStreetMap Mappers to improve the tagging. For example the Building entrance fixup map layer highlights maps that are based on an older style of tagging building entrances. There was a change from simply say that there was an entrance to being able to specify the type of entrance. It's also useful when people add other info like whether that particular entrance to the building is wheelchair accessible, which can then lead to wheelchair specific routing, and routing to a suitable building entrance, rather than the opposite side of the building which might mean a 5 minute walk.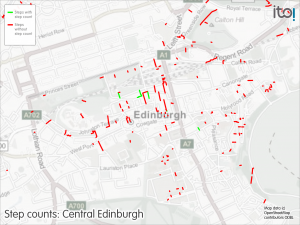 How good are you at counting? Having the number of steps in a staircase can mean that routing engines can avoid long sets of steps for example. This could be useful for elderly  people who struggle walking up or down large flights of steps. I'm not sure OSM has come up with a consensus yet as to which direction is up or down, so that the routing engine could for example say go down 10 steps, walk 500 metres turn right and up 50 steps.
CycleStreets take the view that dismounting and walking your bike up or down a few steps may be preferable to huge diversion.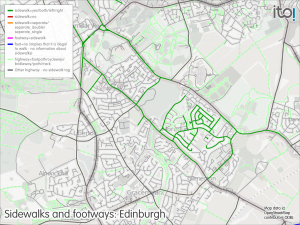 Another useful map for walking campaigners is the map showing where the pavements/sidewalks are. This more detailed information of roads is probably not so useful in towns and cities, but more so in more rural areas, where pedestrians will often be expected to walk along side motor vehicles travelling at 40 or more miles per hour, which can be a pretty daunting experience. There can be parts of towns and cities where there are urban motorways where there is no pavement, or only one on one side of the road.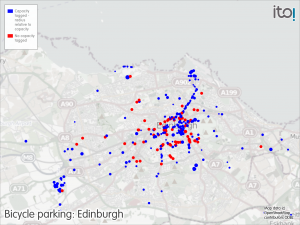 The OpenCycleMap has shown cycle parking in OpenStreetMap for many years now, however it doesn't highlight the data in OSM that is lacking the capacity of each cycle parking place so that you know how big the cycle park is. The ITO Map of cycle parking specifically highlights data that could be improved with a red dot or area. Gregory Williams from Spokes East Kent has created a heat map of cycle parking.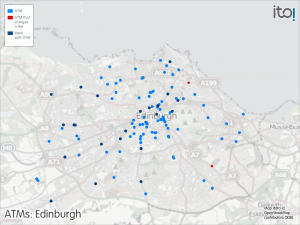 Do you know where your nearest cash machine is and does it charge a fee?
OpenStreetMap has some data for the ATMs, however I'm sure there are more out there.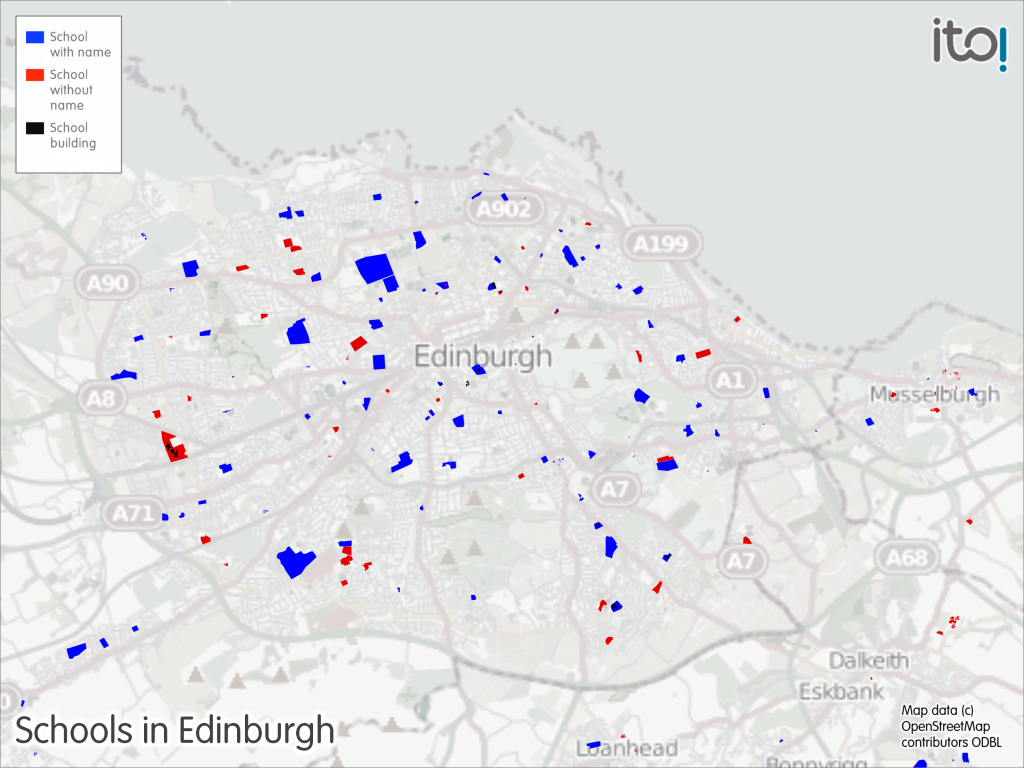 Is your local school mapped with buildings, and the schools grounds? ITO have a map for the schools.
Next up I showed some of the Vector Map District comparison maps.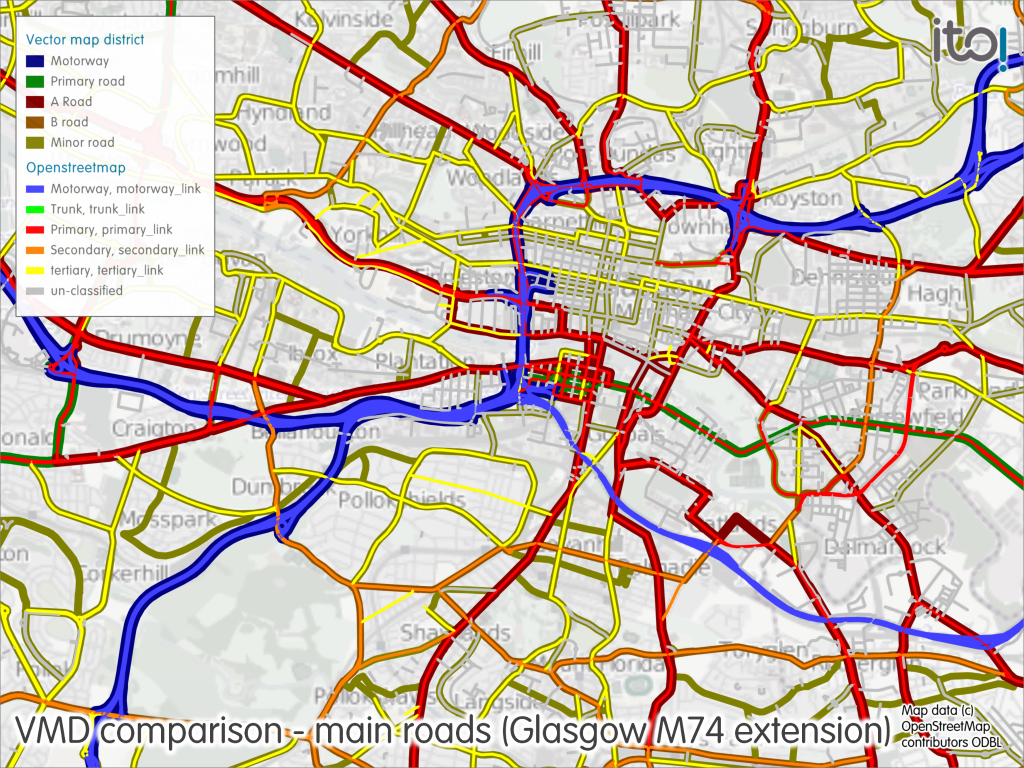 I started off with the main roads VMD comparison highlighting that it can help with showing where there may be some differences that need fixed. Sometimes the Ordnance Survey data sources can be out of date, thus shouldn't be copied without thinking. The example above highlights the new M74 extension, which opened since the OS VMD data was released. The map highlights a lot of discrepancies in the tertiary roads (what used to be commonly C numbered).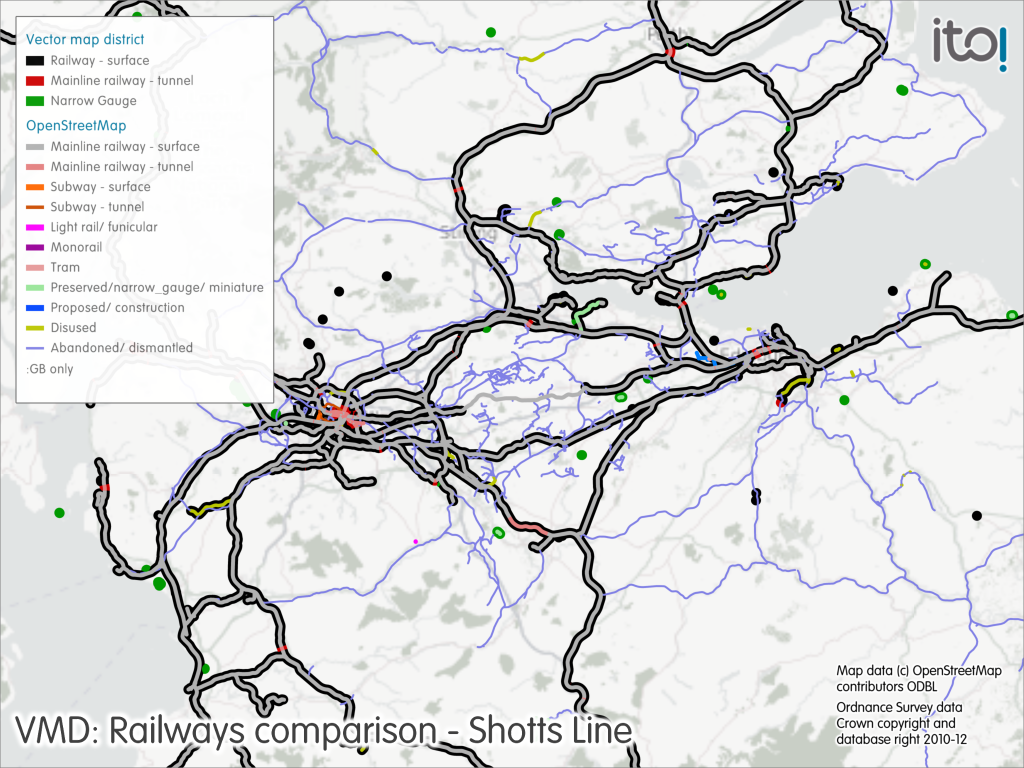 Similarly for the railways, OpenStreetMap is more precise, having more railway types defined, and also having new rail lines, such as the Shotts Line between Edinburgh and Glasgow now open.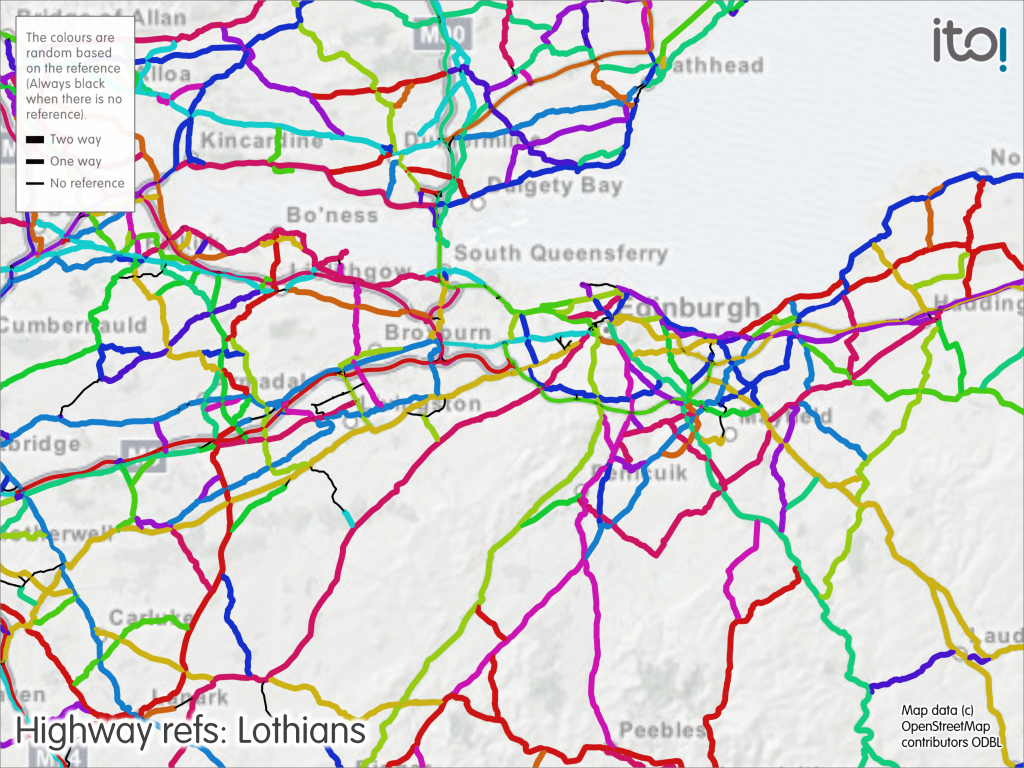 Recently at work I've been looking at what interesting things that I can do with ITO Maps. It turns out that having a random colour based on the road number works well at showing where there road numbers changing where I wouldn't expect them, or thin black lines showing where there is a missing road number (or ref in terms of OSM tagging). Someone has gone and fixed up most of the references that were missing in Central Scotland since the talk.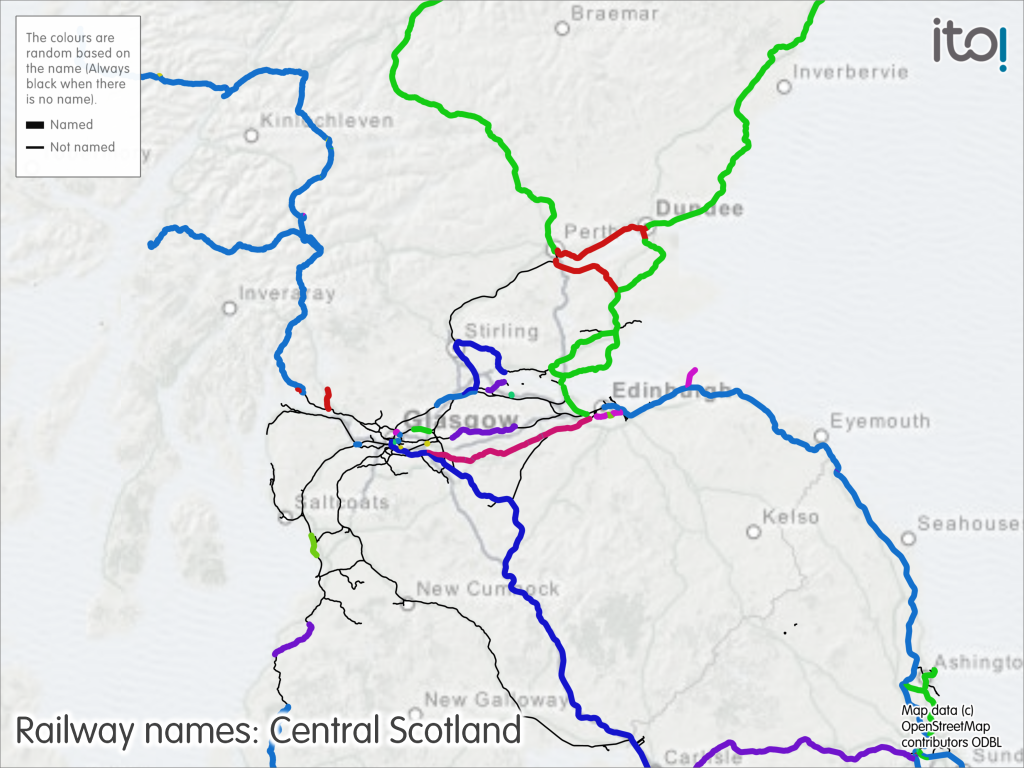 Similarly for railways you can easily see where they change name. In many cases the rail line doesn't have a name.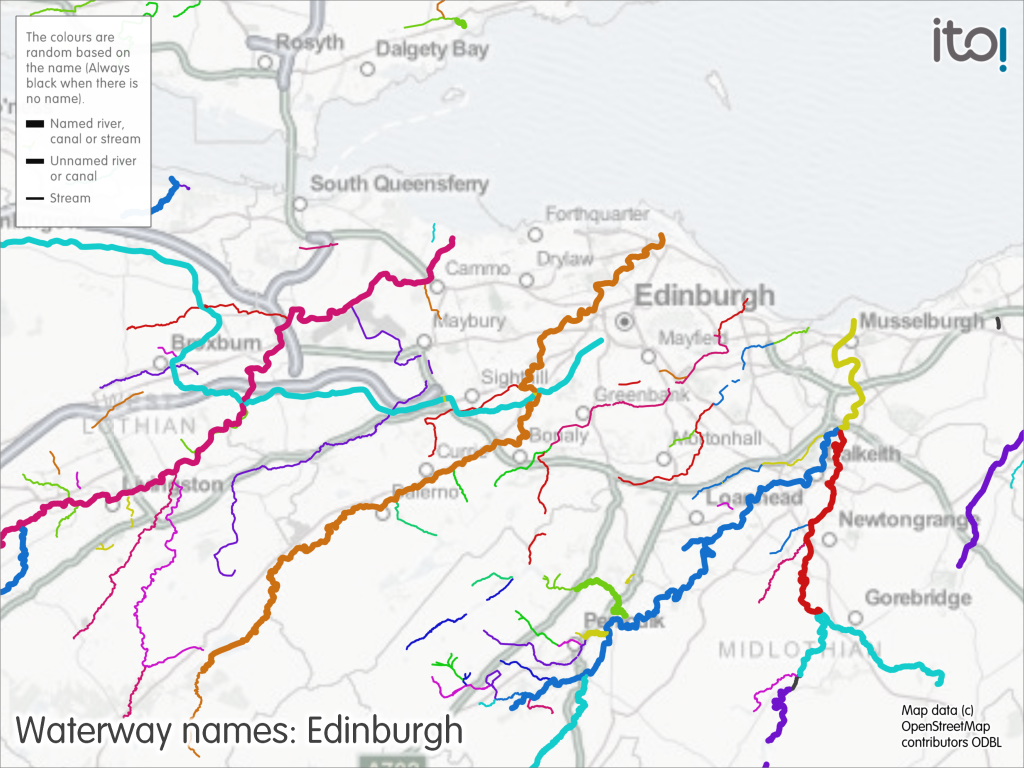 Or how about random waterway names? Do some of the names change unexpecedly?
Finally I covered various questions and highlighting other things from the floor. ITO's OSM Analysis tool is useful for spotting differences between OpenStreetMap and the Ordnance Survey's OS Locator dataset. OSM Mapper is great for showing what has happened recently in an area, or highlighting the types of data that has been mapped in the area.
ITO are able to create new map layers to support the validation of OpenStreetMap data. The best ways to get in touch are to either add a message to the ITO Map Ideas wiki page where it can be publicly discussed, or to email support@itoworld.com.
Some other OSM tools that you may be interested in:
Who did it? which highlights recent changes that have been happening, and whether you should take a closer look based on some heuristics.
OSMstats shows charts about the OSM data and how it's changing over time with daily updates.
Richard Mann has come up with cycle map style that is distinctly different from the original OpenCycleMap. It highlights main roads that have residential roads along them as they are likely to be"nicer" for cycling along compared to more rural main roads.
And finally you may not have yet come across the Live OSM Edits site. It can be quite addictive to sit and watch where there are edits happening in the world.