Last week I noticed a couple of tweets from Edinburgh South Police suggesting that you should remove the seat or a wheel when you store it in a shed on the grounds that many bikes are cycled away.
You may not be up to yellow jersey standard but if you have a bike in your shed: consider alarm & remove the seat or single wheel (1/2)

— EdinburghSouthPolice (@EdinSouthPolice) July 26, 2015
(2/2) most our stolen cycles are cycled away. More difficult to do without a seat or wheel!

— EdinburghSouthPolice (@EdinSouthPolice) July 26, 2015
I can see why the advice would help to reduce the probability of a theft as it would make it harder to cycle away, however I was rather annoyed with this advice. On my bicycle it's not easy to take the saddle or wheels off. It would likely add an extra 10 to 20 minutes each day, with the additional risk of the front wheel not being connected on correctly, or the electrical connector to the hub dynamo for the lights and USB charging wearing out.
Where I live, I have to go through 5 auto closing doors, and find it extremely annoying, especially when you can't get the bike through the door unless you hold the door open. It's something small which has discouraged me from using the bike as often as I have in the past, especially for the more spontaneous journeys, and taking the wheel off would make it even less likely.
Knowing the above I fear that the advice would discourage people from choosing the bicycle for many journeys, particularly the shorter journeys.
For people who have quick release wheels and/or saddles, the advice may work, however for others this is likely to discourage the owner from cycling instead.
On my Dutch bike, and my wife's Pashley, we have frame locks which stops the back wheel from moving when locked, and you must have the key in the lock to use the bike. I'd really like to see more bikes in Britain with practical wheel locks as they are a useful and discrete security device that is always there. Ideally frame locks should be supplemented with another lock to attach the cycle to an immovable object, some frame locks allow you to insert a cable lock, so you don't need to carry a separate lock.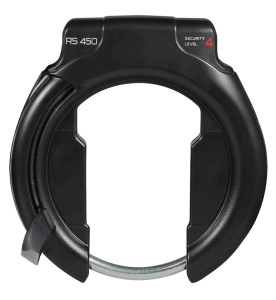 I wonder what the root causes of cycle theft are? I wonder if there's any link to the benefit sanctions and other cuts the government are making… Hopefully some day we can revert to the good old days where you don't need to worry about things being stolen, as is currently the case in some rural areas.